I had been juicing for the last few months off and on. I noticed after a few days a lots of the aches and pains disappear, My focus is better, My energy level is much higher and a plethora of other things. However as with everything else I get bored after a few days and wind up stopping. However when I decided last month to change my lifestyle to healthier eating I decided I would also make a commitment to myself that I would juice everyday. So far so good. I keep changing up the recipes so I don't get bored so easily..I have literally hundreds of them written down but this one is by far my favorite! My day starter.. Till we meet again..Mama Carol

Spinach Supreme Starter

2 Handfuls of fresh spinach

1 cup of frozen or fresh pineapple cubes

1/2 apple

Tbsp Chia seeds

Chia Seeds contain more Omega -3

's then salmon! They also help with weight loss because they reduce food cravings making you feel fuller. They are some awesome little things!
Powered by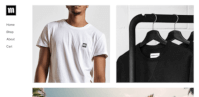 Create your own unique website with customizable templates.
Photos used under Creative Commons from clkohan, Dyanna Hyde, Michael's Cookie Jar, B*2, ohsarahrose, HannahWebb, rocknroll_guitar, bochalla, ccharmon, Ashley Coombs, Ava R., swambo