If you like to talk to tomatoes....Have we got a book for you!!!!!!
To say that I was excited to see this book would be an understatement. For well over a year I've been searching for a devotional that my son and I could both enjoy an they were either too lengthy or not age appropriate so when I got the chance to get this book in exchange for a review, I jumped on it!!
​
VeggieTales: Everyday with God–365 Daily Devos for Boys exceeded my expectations and has made mornings a time that my son and I both look forward to. With short entries we are finished in less then 5 minutes, which is great for an active 4 year old, and a mom who can't sit still. I love that they contain a scripture, a small story to drive the point home, a thought for the day, and end with a prayer that children can follow along with.
With a version for boys and girls, this would be the perfect gift for any child or even a great baby shower gift!!
You can purchase quickly and easily through Amazon and have it shipped right to your door:



Powered by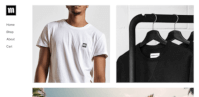 Create your own unique website with customizable templates.
Photos used under Creative Commons from clkohan, Dyanna Hyde, Michael's Cookie Jar, B*2, ohsarahrose, HannahWebb, rocknroll_guitar, bochalla, ccharmon, Ashley Coombs, Ava R., swambo